Regulators approve Link Bank, Bank of Delmarva deal
SEAFORD — Linkbancorp and Partners Bancorp has received approval from four state regulators and the Federal Deposit Insurance Corporation for a deal that would bring the 18 banks across the Delmarva peninsula under new ownership.
Partners Bancorp, the parent company of both Seaford-based Bank of Delmarva and Virginia Partners Bank, will be acquired in an all-stock transaction that is expected to close in the fourth quarter of this year. The deal is valued at $168 million. 
Both Partners and Linkbancorp announced that the federal regulators and Pennsylvania Department of Banking and Securities, the Virginia State Corporation Commission, the Delaware Office of the State Bank Commissioner and the Maryland Office of the Commissioner of Financial Regulation had signed off on the deal.
Under the proposal, Partners shareholders would receive 1.15 shares of Link stock for each Partners stock owned. Upon completion of the transaction, Partners shareholders will own approximately 56% and Link shareholders will own approximately 44% of the combined company.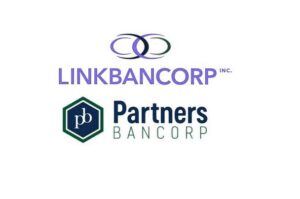 Key Partners executives would also be retained to smooth translation.  Partners CEO John Breda will serve as CEO of the Delmarva Market and Partners Chairman Jeffrey Turner will serve as vice chairman of the Linkbancorp Board until chairman Joseph Michetti Jr. steps down.
Partners has more than a century of history on the Delmarva peninsula through Bank of Delmarva, with branches in Maryland, Virginia and southern Delaware. The company had 160 employees through its three subsidiaries: the Bank of Delmarva (Maryland and Delaware), Virginia Partners (Virginia) and Liberty Bell Bank (Philadelphia/South Jersey region).
The regulatory approvals signal that Partners' search for a new partner could be ending soon. The financial institution had been on the market for at least two years, and first announced a deal with  OceanFirst Financial Corp. of New Jersey in 2021. But that deal ended a year later when it took longer than expected to secure regulatory approval.
Link Bank announced it would purchase Partners earlier this summer. Link Bank was formed in 2018 when it was acquired by West Chester, Pa.-based Stonebridge Bank and later Gratz Bank in central Pennsylvania. 
Out of 11 branches, most Linkbank locations are focused in central Pennsylvania, and two branches right over the northern Delaware border. Through its digital service and three client solution centers, the bank has 148 employees.